Facial Oil
£24.95 GBP
Description
Directions
Ingredients
"I feel like I've had a facial each night!" Jennifer L

Our award winning natural face oil is daily treat for all skin types. A 100% natural blend of Jojoba, Argan, Olive Squalane, Pumpkin and Raspberry seed oils, plus our signature blend of gorgeous aromatic essential oils. This is an exceptionally light face oil that quickly absorbs into the skin, leaving no greasy residue. Full of vitamins, minerals and omega fatty acids, it really is superfood for your skin!

Dry skin? The oils are moisturising and hydrating, and can help to plump skin and soften fine lines. 

Combination skin? The oils can help balance your skin and improve texture and tone, leaving skin looking bright and glowing.

Oily and problem skin? As strange as it sounds, these oils can help reduce oiliness and help skin to look clearer. Natural anti-bacterial and anti-inflammatory properties can help to prevent acne and reduce redness.

Sensitive skin? This oil is gentle enough for most sensitive skins but if you're unsure we recommend you try one of our mini bottles first.

Rosacea prone skin? Ingredients in our face oil are known to have natural anti-inflammatory properties which can help calm and reduce redness.

No matter what your skin type, this oil is a joy to use, improving the health of your skin and leaving it feeling soft and supple. The blend of essential oils that we use are very calming and can help you relax and sleep better. You'll feel like you're in a spa every time you use it!

Awarded GOLD in the Free From Skincare Awards 2020.

"It cleared deep-seated acne, inflammation and dry skin — is that even possible? — leaving clear, moisturised, soft skin … My skin was hugely improved using this oil"

"This oil seems capable of balancing out the oily problem patches as well as the dry ones … I've never found a moisturiser able to do all this"

Certified palm oil free, certified cruelty-free and suitable for vegans.

As a night oil

Our face oil is primarily a night oil. After cleansing, apply approximately 3-4 drops of the oil onto the palm of your hands and then gently pat (or smooth in an upwards motion) onto your face and neck. There is no need to use a night moisturiser as well - this facial oil will provide all the moisture your skin needs. If you have very dry skin apply the oil while your skin is slightly damp - this will lock in extra moisture. If you are using the mini version one full pipette is around the right amount. Maximise the therapeutic qualities of the essential oils by inhaling the aroma from your cupped hand once you have applied the oil to your face. Avoid eye area.

Day time use

You can use our oil in three ways for day time use. You can use it alone as a moisturiser. If you prefer to use a cream based moisturiser, you can mix a couple of drops of our face oil into your moisturiser to give it an extra boost. You can also apply some face oil after you apply your moisturiser. This is especially useful in cold winter months when your skin needs lots of protection against the elements.

Storage and packaging

The product is packaged in high quality blue glass to protect the oils from UV light deterioration. Store away from heat and sunlight to further extend shelf life. The pipette is child-proof.

The glass bottle can be re-purposed or recycled. The plastic lid and glass pipette is not recyclable.

Allergies

Avoid or take care with nut allergies - this product contains Argan Oil, a plant oil produced from the kernels of the Argan tree and is therefore classed as a tree nut.

Patch testing is advised the first time you use a new product, particularly if you have sensitive skin or are prone to allergies. Test a small area of skin (the inside of your elbow or inner arm for example) and observe for 24hrs to be sure there is no reaction before applying generally.

Organic Jojoba Oil

Jojoba is a fantastic moisturising oil that can help soften the look of wrinkles. It is very similar to human skin oil which enables it to be easily absorbed into our skin. It can help balance our skin's oil production and has antibacterial properties too. It forms a thin layer on the skin that prevents moisture loss, helping to keep the skin hydrated.

Organic Argan Oil

Produced by a women's co-operative in Morocco, Argan is a wonderful anti-ageing oil. High in omega 6 and 9 fatty acids, it helps keep skin feeling firm. It is really high in vitamin E which helps protect the skin from environmental damage. Anti-inflammatory properties help reduce skin redness.

Raspberry Seed Oil

Raspberry Seed Oil is fantastic for reducing skin redness due to its high levels of plant sterols and omega 3 fatty acids. It also has high levels of Vitamin E that act as an antioxidant to protect the skin from environmental damage.

The high levels of plant sterols can help repair skin damaged by the sun. Forms a barrier on the skin to prevent moisture loss.

Organic Pumpkin Seed Oil

Pumpkin Seed Oil can improve skin firmness due to its naturally high zinc levels. Vitamin E protects the skin from environmental damage and plant sterols have anti-inflammatory properties that reduce redness and irritation. Omega fatty acids ensure that skin stays well hydrated and moisturised.

Olive Squalane

Our body produces small amounts of Squalane but as we age this production reduces significantly - contributing to dry skin. Squalane moisturises the skin, softening the appearance of fine lines and wrinkles. It helps keep skin firm and may help protect the skin from age spots caused by the sun. Has anti-bacterial properties.

Vitamin E

Natural Vitamin E is an antioxidant that protects and repairs the skin.

Organic Frankincense Essential Oil

Frankincense helps revitalise the skin and can help reduce the appearance of scars and other imperfections. It promotes feelings of overall wellness. It has the ability to slow down breathing making it great for relaxing and helping to promote sleep.

Organic Geranium Bourbon Essential Oil

Geranium Bourbon has many benefits for all skin types and promotes feelings of relaxation.

Lavender Essential Oil

Lavender has anti-bacterial and anti-inflammatory properties. May help improve skin conditions such as eczema and dermatitis. It promotes feelings of relaxation and well-being and is well known for its ability to improve sleep.

Sweet Orange Essential Oil

Sweet Orange helps revitalise dull complexions. It is energising and promotes feelings of happiness.

Suitable for Vegans
Customer Reviews
02/03/2021
Couldn't live without it
I've been using this for well over a year now and I couldn't be without it. I've bought for friends and family who have gone on to buy it themselves
Laura J.

United Kingdom
02/03/2021
Amazing
Loved it! I have quite dry sensitive skin, and love a face oil. This one smells amazing and feels great on my skin, it's also reduced redness on my cheeks . Highly recommend this product!
kiri f.

United Kingdom
23/02/2021
Great product
Very much enjoying using this product, smells wonderful and nourishes my skin without leaving it greasy
Irina B.

United Kingdom
16/02/2021
Brilliant
My skin feels and looks so much better when using this oil. Smells amazing too!
Lesley G.

United Kingdom
15/02/2021
Best face oil
Tried this from a sample and was very impressed it is non greasy and goes on really well it also smells so good I feel like I've just had a beauty treatment so I ordered the bigger size and very pleased with it
Carole B.

United Kingdom
09/02/2021
Soothing
So soothing and hydrating for my skin. Much needed when wearing a mask all day long.
Susie M.

United Kingdom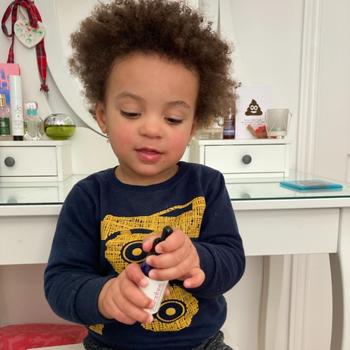 08/02/2021
Love this oil
I didn't think a facial oil would work well for my skin type but tried it and love it! It also smells amazing so putting it on in an evening feels very relaxing and luxurious. I also love that the bottles are childproof, my sons love it on their skin but a bottle would last 5 minutes if they had their way!
Kirsten A.

United Kingdom
07/02/2021
Amazing
I've been using this product for over a year, it makes my skin feel so smooth!
Mary M.

United Kingdom
05/02/2021
Amazing couldn't be without it!
I can't praise this oil enough, it's everything my skin has ever needed. Smells amazing also which is just an added bonus!
Sofia B.

United Kingdom
02/02/2021
Just the most gorgeous oil!
I bought the sample size first to try it, and it's every bit as good as I'd heard. It smells incredible, and my skin is so soft and bright when I use it. I've run out and can really notice the difference, so I'll be buying a full-sized bottle today!
Karen M.

United Kingdom