Mama Bare Belly Oil
3 reviews
£29.50
Description
Directions
Ingredients
Formulated for use during pregnancy, our Belly Oil is it the perfect daily ritual for mums-to-be. Organic botanical oils and extracts nourish and moisturise the skin, helping to increase skin elasticity and minimise the formation of stretch marks. Soothes and relieves itching caused by skin stretching.

We decided to keep this product essential oil free as we wanted this product to be available to expecting mothers in all stages of pregnancy. There are many pregnancy-safe essential oils but it is best practice to avoid all essential oils in the first trimester of pregnancy, especially when using a product in such large quantities.

Sunflower seed oil makes your skin feel nourished, moisturised and soft. Jojoba oil moisturises and protects your skin, helping it stay hydrated. Rosehip seed extract helps to improve skin elasticity and can reduce the appearance of scars. Amaranth seed extract soothes and moisturises dry, itchy skin. Vitamin E is rich in antioxidants to protect and promote healthy skin.

Lightweight and quickly absorbed, this oil will not leave a sticky residue. No hanging around for ages waiting to be able to get dressed!

Packaged in a luxurious cobalt blue Fleur d'Orange glass bottle. We have included a beautiful ingredient information booklet that is tied around the neck with navy ribbon. 170g/200ml.

Dispense the oil into your palms and gently massage onto growing belly, breasts, hips, and thighs. Use morning and night throughout pregnancy.

Storage and packaging

The product is packaged in a luxurious cobalt blue Fleur d'Orange bottle. The packaging will help to protect the oils from UV light deterioration, however it is advisable to store away from heat and sunlight to further extend the shelf life.

The glass bottle can be recycled or re-purposed, it makes a beautiful vase!The plastic lid is not recyclable.

Allergies

Patch testing is advised the first time you use a new product, particularly if you have sensitive skin or are prone to allergies. Test a small area of skin (the inside of your elbow or inner arm for example) and observe for 24hrs to be sure there is no reaction before applying generally.

Organic Sunflower Oil

High in omega fatty acids and vitamins E and D. Softens, moisturises, protects and nourishes the skin.

Organic Jojoba Oil

Jojoba is a wonderfully lightweight moisturising and skin softening oil. As it is very similar to human skin oil, it is quickly and easily absorbed into by skin. It forms a thin layer on the skin that prevents moisture loss, helping to keep the skin hydrated. It also has antioxidant properties that help to protect our skin.

Organic Rosehip Seed CO2 Extract

Rich in omega 3 and 6 fatty acids and the naturally occurring form of Vitamin A (retinoic acid). Rosehip helps to regenerate the skin, reducing the appearance of scars and helps skin to regain its natural colour and tone. Helps to improve skin elasticity. Great for dry itchy skin as the fatty acids help keep the skin hydrated.

Organic Amaranth Seed CO2 Extract

Soothes and moisturises dry, itchy skin. Contains a high amount of tocopherols, squalene and anti-inflammatory plant sterols. Rich in Linoleic acid, Oleic acid, Palmitic fatty acids.




Vitamin E

Natural Vitamin E is an antioxidant that protects and repairs the skin.

Suitable for Vegans. Nut-Free. Certified Cruelty-Free. 99.5% Organic.
Customer Reviews
27/04/2022
Great so far!!
I got it as a gift fro a pal, and have been really loving using it. It goes on well, and so far I don't have any stretch marks, so it's doing its job perfectly!!
15/02/2022
Gorgeous Belly Oil
The Oil is lovely to use on my bump. It isn't too strong a smell and doesn't leave you feeling greasy! Would highly recommend.
Helen R.

United Kingdom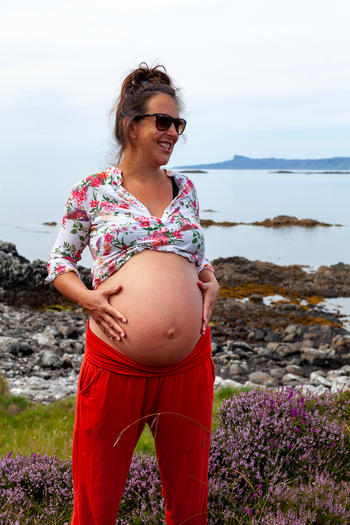 14/05/2021
THE STUFF OF PREGNANCY DREAMS!!
Having used and LOVED the Face Oil since the beginning of the Amaranthine journey, I was super happy to be contacted by the owner at the beginning of my pregnancy to be entrusted with the job of being a Mama Bare Oil "Tester"! I was asked to massage into my tummy, boobs and thighs every night throughout my pregnancy and I'm pleased to report that I not only went full term without one single stretch mark, more importantly, this oil stopped any itching in its tracks and felt super luxurious when massaged into my skin. I suffered with terrible nausea during the first and second trimesters and the fact that this was unscented was an absolute Godsend too as other oils and belly creams I considered were really overly potent! This oil spreads far and wide so a little goes along way, but the best part is that I had quite a bit left over after my pregnancy and it coupled up as the best baby massage oil ever as it's mostly organic and free of anything that might upset newborn skin. Double win! I've added a photo of my MASSIVE, but incredibly well moisturised belly! Thank you so much for choosing me as a tester. P.s. also VERY happy to be a tester for any other products you might be bringing out in the future : )
Paula W.

United Kingdom