Body Crème
14 reviews
£19.50
Description
Directions
Ingredients
Sweet, exotic notes of floral Neroli blended with citrusy Sweet Orange - a match made in heaven.  An uplifting scent that can't help but make you feel happy 🙂

Naturally high in omega fatty acids and nutrients which help to nourish, moisturise and soften your skin.

Body Crème is a rich, luxurious body butter. Perfect for pampering yourself after a bath or shower.  Use it after shaving your legs to help prevent itchiness. It's also a perfect after sun as the hero ingredient Sea Buckthorn helps to repair sun damaged skin.  Apply it to your hands before bed for lovely soft hands in the morning.

This product contains no water or fillers.  It is a concentrated blend of beautiful oils - this means you only need to use a little to get great results.

Suitable for all skin types. 85g/100ml

Apply a small amount and smooth into skin. Melts into an oil on contact with skin.

Do not apply to irritated or damaged skin.

Storage and packaging

This product is packaged in a blue PET plastic jar that is 100% recyclable and will help protect the oils from UV deterioration.

Store away from heat and direct sunlight to extend the shelf life and to avoid letting the product melt. If the product is left in direct sunlight for a period of time it may melt to a liquid. It will firm up again and have the same results but will have lost it's whipped butter consistency.

Do not allow water to enter the product - use dry hands when removing product from the jar.

Allergies

Avoid with nut/latex allergy.

Patch testing is advised the first time you use a new product, particularly if you have sensitive skin or are prone to allergies. Test a small area of skin (the inside of your elbow or inner arm for example) and observe for 24hrs to be sure there is no reaction before applying generally.

Organic and Fairtrade Shea Butter

Shea Butter is intensively moisturising as it is rich in essential fatty acids. Vitamins A and E protect the skin and promote skin elasticity. It is anti-inflammatory and healing - making it excellent at helping to fade scars and stretch marks.

Raw Organic Coconut Oil

Coconut Oil is an excellent moisturiser and is rich in antioxidants. Helps keep skin elastic and firm. It is very high in Lauric Acid, an essential fatty acid that has antibacterial, antifungal and antiviral properties.

Sweet Almond Oil

Sweet Almond Oil softens the skin. It contains many vitamins and minerals that keep the skin protected and nourished. Sweet Almond oil is great for soothing itchy, irritated skin.

Organic Sea Buckthorn Berry Extract

Sea Buckthorn Berries are one of the richest plant sources of vitamin C and rare omega 7 fatty acid. They also have high levels of carotenoids (which the body converts into vitamin A) vitamin E and plant sterols.

This cocktail of nutrients have properties particularly useful in delaying the signs of ageing. They help protect skin from environmental damage and photo-ageing. Increased collagen production results in skin feeling more elastic and firm.

Neroli Essential Oil

Neroli is distilled from the flowering blossoms of the Orange Tree. Its scent is floral, sweet, citrusy and exotic. Skin benefits include helping to fade stretch marks and scars. Its scent is both uplifting and relaxing.

Organic Sweet Orange Essential Oil

Sweet Orange has anti-inflammatory and antibacterial properties. Its scent is wonderfully uplifting and can help reduce feelings of stress and tension.

Vitamin E

Natural Vitamin E is an antioxidant that protects and repairs the skin.

Suitable for Vegans
Customer Reviews
03/07/2021
Love it
Goes on really well smells beautiful and skin left soft
marie h.

United Kingdom
25/04/2021
Smells really good and feels great on my skin
This cream smells lovely and a little bit goes a long way. It feels great on my skin and is helping to ease the dryness. Definitely recommend it for a bit of self-care!
Katrina H.

United Kingdom
04/01/2021
Luxurious
The Body Creme was a gift for a relative who is currently going through Radiotherapy and Chemotherapy. The scent immediately lifted his senses and made him smile, and the creme helped to soften his dried skin. Unfortunately, I cannot persuade him to use it all the time, and he wants to 'keep it for good!'
Tracy M.

United Kingdom
16/08/2020
Amazing Body Creme
I love this product! There is a lovely scent of neroli flower and it melts in your hand leaving your skin nice and smooth. Best product I have used lately!
Danni R.

United Kingdom
23/06/2020
Lovely Body Creme
Really lovely cream and it smells divine with sea buckthorn and neroli. It can be a little greasy on the skin but generally a fresh smelling cream that leaves skin feeling very soft.
Alison H.

United Kingdom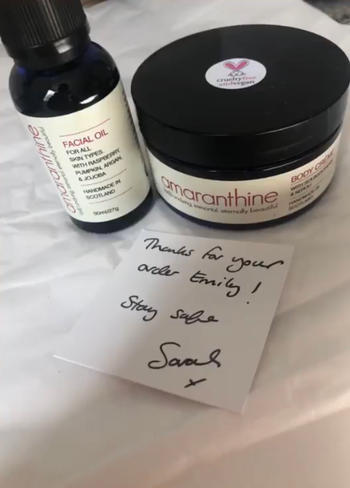 29/05/2020
Beautiful
I treated myself to this a couple of weeks ago as I noticed my skin needed some TLC, I'm normally terrible at remember to look after it but this creme has got me wanting to moisture all the time! It smells delicious and the smallest amount goes a long way. It doesn't feel greasy or sticky so perfect for popping on before getting dressed or hopping into bed. As always, Sarah has created a gorgeous product.
Emily K.

United Kingdom
02/05/2020
Pure luxury!
The smell of this is utterly divine and feels so luxurious on the skin! Along side the other amaranthine products this is amazing. The packaging is beautiful too. I just love the overall quality of these products! It's too easy to forget to care for your skin in lockdown but making a point of doing it regularly with these products has become a must for me.
Susan M.

United Kingdom
13/04/2020
My favourite
I love this product! It's now my favourite body cream. It melts in your hand to form an oil and goes on smoothly and is so easily absorbed by the skin. It smells gorgeous. It feels like a real treat.
Laura L.

United Kingdom
08/11/2019
pleasure and indulgence
I love my Amaranthine Body creme. It's not something I would typically splash out on, but I was struck by the sustainability of the ingredients. It means a lot to me that it contains no rainforest-destroying palm oil.  It's a lovely rich buttery texture, but doesn't leave my skin feeling greasy. I have it next to my bed and every night open the lid and relish the smell; subtle scented with neroli and orange. It leaves me feeling luxurious. It has lasted ages, so well worth the money for the pleasure and indulgence.
12/07/2019
Love applying this creme!
Swimming competitively in a chlorinated pool for 10+ years left the skin on my legs extremely dry and flaky. My skin had never healed afterwards. It wan't until I used Amaranthine's body creme that I realized my legs were actually staying moisturized and taking in all the amazing natural ingredients. It also came extremely handy on my trip to Palma when I got sunburned! It's now the only moisturizer I use and probably, will EVER use. Applying this creme has become my favourite part of my self care routine. :)